Dec 22, 2017
thehill.com
State Department faces mounting cyber threats
A new directorate in the State Department's law enforcement branch is working to combat cyber threats to the nation's diplomats, in what officials describe as an increasingly perilous and dynamic threat landscape of criminal and state-sponsored hackers.
The Cyber and Technology Security (CTS) directorate was quietly launched in late May, just as Secretary of State Rex Tillerson came under scrutiny for a nascent plan to shutter a separate office charged with engaging other nations on cybersecurity policy.
The directorate carries out traditional cybersecurity functions, such as cyber incident response and penetration testing of networks to guard department systems, personnel, and information from ransomware, cyber crime and other hacking threats.
Lonnie Price, who is leading the new directorate, describes the cyber threat as growing at "a worrisome rate."
"Not only the usual suspects that you read about so much that are after us — they are undaunted in their determination to compromise our systems and get our data — but you have a lot of other threats that are emerging," Price, the assistant director, told The Hill.
The directorate, housed within State's Bureau of Diplomatic Security, also contributes to cyber investigations than cross national borders and focus on leveraging emerging technologies at the department and embassies abroad.
Plans to establish the new directorate preceded the Trump administration, beginning back in early 2016 as officials sought to better align and execute the bureau's internal cybersecurity and information technology mission.
Before it was launched, many of the directorate's functions were scattered across various offices within the security bureau. Price said the new structure helps the bureau more quickly counter "fast developing threats."
The creation of the directorate is a sign of an increasing focus on cybersecurity within the federal government that comes in the wake of high-profile cyber incidents, including the 2015 Office of Personnel Management (OPM) breach that compromised sensitive information on more than 20 million federal workers.
The State Department has weathered its own scrutiny for a 2014 breach of its unclassified email system that was reportedly carried out by Russian hackers. The incident caused the department to partially shut down the system in order to make security upgrades.
"What we're seeing … is there are heavy hitters going after our employees accounts," Price, who has served in various security and tech roles in his 30 years at State, said. "They're looking for information, they're looking for contacts."
The directorate is only part of State's broader cyber mission and is distinct from the now-defunct Office of Cybersecurity Coordinator, which was responsible for global diplomatic engagement on cyber issues.
Tillerson informed Congress in late August that the office would be closed and its responsibilities shuffled under a bureau focused on economic and business affairs as part of a broader reorganization of the department. Officials have explained the decision as an effort to integrate the department's cyber and digital economy policymaking efforts.
Some lawmakers and former officials took the decision as a sign that the new leadership was putting less of a priority on cybersecurity. Bipartisan legislation has been introduced in the House to save the cyber diplomacy office and elevate the coordinator position to the level of ambassador.
"I'm concerned about plans to downgrade the Office of the Coordinator for Cyber Issues and merge it with an existing office within the Bureau of Economic and Business Affairs at a time when the U.S. is increasingly under attack online," Rep. Joe Wilson (R-S.C.) said during a September Foreign Relations Committee hearing.
"Shouldn't the State Department continue to have high level leadership focused on the whole range of cyber issues not relegated to economics?" Wilson asked John Sullivan, Tillerson's deputy.
Sullivan countered that Tillerson is committed to making cybersecurity a "high level" priority.
"I can commit to you that cybersecurity, our whole cyber effort will be elevated at the department beyond the level it is now," Sullivan said.
Tillerson's first year at the department has been rocky. He has been forced to defend his reorganization effort and steep budget cuts proposed by the new administration in the face of gripes from Congress, as well as facing public clashes with President Trump.
Meanwhile, State has been hampered by departures amid persistent rumblings of low morale at the department.
Many entities within State, including the cyber and technology security directorate, have been subject to a partial hiring freeze that has remained in place at the department as Tillerson has shepherded the redesign.
Price, like other State officials, insisted that Tillerson is taking cybersecurity seriously, citing his push to move the department to the cloud, an effort that the new directorate is involved in as part of its focus on emerging technologies.
"Leadership is definitely hastening us to innovate as quickly as possible," Price said. "At the same time, they're saying, we're not doing it recklessly."
"No one wants folks like you … to write about our next incident," he said.  Source
Nov 28, 2017
The Hill
Air Force didn't report dozens of convictions to background check database
© Getty Images
Nov 21, 2017
NY Times
Top Democratic congressman settled sexual harassment complaint for $27K
Democratic Congressman John Conyers reportedly sexually harassed a female staffer — leading to a wrongful-termination settlement in 2015 that essentially silenced his accuser.
Conyers, the longest-serving member of the House of Representatives, is accused of repeatedly making sexual advances to female staffers, according to BuzzFeed.
One woman filed a complaint in 2014 claiming she was fired because she would not "succumb to [his] sexual advances."
The woman signed a confidentiality agreement in exchange for a $27,111.75 settlement, the website said.
Conyers did not admit fault as part of the settlement.
Some of the allegations in the complaint obtained by BuzzFeed include the following:
Conyers repeatedly asked for sexual favors and asked a staffer to join him in a hotel room.
The congressman told the staffer she needed to "touch it," referring to his penis.
Conyers asked the staffer to sleep in his room and "just cuddle up with me and caress me before you go."
"Rep. Conyers strongly postulated that the performing of personal service or favors would be looked upon favorably and lead to salary increases or promotions," the former employee said in the documents obtained by BuzzFeed.
Other staffers signed affidavits that backed up the woman's claims.
One affidavit from a separate female staffer claimed that part of her job was to fly in women whom she believed the congressman was having affairs with.
"One of my duties while working for Rep. Conyers was to keep a list of women that I assumed he was having affairs with and call them at his request and, if necessary, have them flown in using Congressional resources," her affidavit read.
Conyers' office could not be reached for comment Monday night.
Source
Nov 17, 2017
politico.com
Florida Democratic Party chair apologizes after 6 women complain of 'demeaning' behavior
TALLAHASSEE — Six former Florida Democratic Party staffers and consultants say that current party Chairman Stephen Bittel has created an unprofessional workplace environment for women that includes persistent inappropriate comments, leering at young women and even inviting them on his private jet.
The women, who were reached independently by POLITICO and insisted on anonymity out of fear for their jobs, said Bittel never inappropriately touched or threatened them. But he made them feel so uneasy that they didn't want to be alone with him due to his body language, suggestive remarks and even the breast-shaped stress squeeze-ball he has been known to keep on his desk.
Depending on the circumstance and the person discussing Bittel, they said he would make references about women cooking dinner, showing their breasts, their age, whether they wanted to ride on his plane, come to his hotel room or if they thought he was attractive.
"There was a lot of boob stuff in his office," said a woman who was a fundraiser years ago and had to interact with him. "I was told by other women not to go into his bathroom. I was warned."
In a written statement, a spokesman for Bittel didn't dispute the women's accounts and acknowledged he had the breast-shaped stress balls. But, he said, they were a gift "from a former female general counsel of his company years ago as a joke for his birthday. He keeps them in a drawer with other gag gifts."
Bittel also apologized.
"Every person, regardless of their gender, race, age or sexuality should be treated with respect and valued for their hard work and contributions to our community and if any of my comments or actions did not reflect that belief I am deeply sorry," Bittel said. "I have much to learn, but my goal is and has always been to make sure every member of our party has a safe environment in which to succeed. It seems I've not been successful in that goal, and I will do better."  Read more
Nov 16, 2017
The Hill
Franken releases new statement, calls for ethics investigation of himself
Sen. Al Franken (D-Minn.) is calling for an ethics investigation into his own behavior after a woman accused him of kissing and groping her without consent.
Franken in an expanded statement on Thursday apologized for the incident, in which he groped television host and sports broadcaster Leeann Tweeden while she was asleep on a military plane during a 2006 USO tour.
"I understand why we need to listen to and believe women's experiences," he said. "I am asking that an ethics investigation be undertaken, and I will gladly cooperate."
In a piece on KABC, Tweeden published a photo of Franken groping her breasts while they were both on a USO tour. She also wrote that Franken forcibly kissed her while they were rehearsing a sketch for a performance.
Franken initially issued a brief, three-sentence statement, in which he said he didn't remember the rehearsal for the skit "in the same way."
In that statement, he wrote that he sent "my sincerest apologies to Leeann," and said he should not have taken the photo, which he described as "clearly intended to be funny."
The second statement came after Franken faced criticism from across the political spectrum that his first statement did not represent a real apology.
"The first and most important thing—and if it's the only thing you care to hear, that's fine—is: I'm sorry," he wrote in the new statement.
"I respect women. I don't respect men who don't," Franken continued. "And the fact that my own actions have given people a good reason to doubt that makes me feel ashamed."
Franken doubled down on his claim that he does not remember the rehearsal for the skit "in the same way" as Tweeden.
But he said Tweeden "deserved to be heard."
"The truth is, what people think of me in light of this is far less important than what people think of women who continue to come forward to tell their stories," Franken said. "They deserve to be heard, and believed. And they deserve to know that I am their ally and supporter. I have let them down and am committed to making it up to them."
Franken has come under intense criticism from his own colleagues, many of whom also called for an ethics investigation.
Senate Majority Leader Mitch McConnell (R-Ky.), Senate Minority Leader Charles Schumer (D-N.Y.) and Sen. Claire McCaskill (D-Mo.) have called for an investigation into the allegations.
The controversy is also erupting as Democrats have trained their fire on Alabama Senate GOP candidate Roy Moore, who is battling accusations of sexual misconduct, including assault, brought by a number of women. The accusers say that Moore pursued them when they were teenagers and he was in his 30s.
McConnell has said Moore will face an immediate ethics investigation if elected.
The accusations against Franken also come amid a push to combat sexual harassment on Capitol Hill. Source
Nov 15, 2017
The Hill
Hannity: Moore answered my questions
Fox News host Sean Hannity said Wednesday night that Alabama Republican Senate nominee Roy Moore answered the questions he posed to him the previous night about the sexual misconduct allegations he is facing.
"Now we demanded, rightly, answers from Judge Moore," Hannity said on his show. "He provided them to the specific questions we asked."
Hannity on Tuesday said he would give Moore "24 hours" to provide evidence that he did not engage in sexual misconduct with teenage girls, or he should step aside from the race.
Moore then penned an open letter to Hannity on Wednesday, in which he denied several of the allegations against him and argued they are politically charged. Shortly before Moore's campaign emailed the open letter to reporters, two women in a story published by AL.com described their own encounters with Moore. One woman said Moore in 1991 groped her when he was a married man, while another said the former judge asked her out when she was 17.
The Washington Post in a story published just after 8 p.m. Wednesday night detailed accounts from two more women who said Moore made unwanted advances toward them.
Hannity during his Wednesday night show said "we got the answers" and that he trusts the Alabama voters to "make the best decision for their state" once they have all the facts.
"And I am very confident that when everything comes out, they will make the best decision for their state," Hannity said.
"It shouldn't be decided by me, by people on television, by Mitch McConnell, Washington, talk show hosts, news people," he added, referencing Senate Majority Leader Mitch McConnell (R-Ky.), who has said he believes Moore's accusers and that the former judge should "step aside."
The accusations were first revealed in a story last week by The Washington Post, which included an account from one woman who said in 1979 she had sexual contact with Moore when she was 14. Moore, who has denied this accusation, would have been 32 at the time.
The original story in the Post also included three women who described Moore making advances toward them during the same time period, when they were between 16 and 18 years old.
Moore in an interview with Hannity last week admitted that during that point in his life, he may have dated girls in their later teens, but that he did not "remember anything like that."  Source
Nov 15, 2017
The Hill
Lawyer: Congress can examine yearbook if hearings are held on Moore accusations
A lawyer representing a woman who accused Alabama's GOP Senate candidate of sexual assault on Wednesday offered to hand over evidence to a Congressional committee if the committee agrees to hold hearings on the accusations.
Gloria Allred offered to hand over to "an independent expert" a yearbook that reportedly confirms Moore knew her client, Beverly Young Nelson, in 1977 when she was 16 years old.
Moore has denied that he knew Nelson. His attorney, Phillip L. Jauregui, on Wednesday called on Nelson to turn over the yearbook to a neutral party for handwriting analysis.
"We also urge the committees to subpoena Roy Moore to testify under oath about his denials of the accusations made against him," Allred said in a statement.
Allred said she sent letters to the Senate Judiciary Committee and the Senate Select Committee on Ethics requesting that they hold hearings on recent accusations against Moore "within the next two weeks."
"I formally requested that those committees conduct a hearing within the next two weeks regarding the accusations made by the five women who alleged that they were victims of Roy Moore when they were teenagers," Allred said in a statement. "In the event that either or both Committees agree to conduct our requested hearing, then we would agree to have the original yearbook examined by an independent expert or experts who would obtain exemplars of Mr. Moore's handwriting during the period in question and compare that handwriting to that contained in the yearbook."
The yearbook message in question read: "To a sweeter more beautiful girl I could not say Merry Christmas. Christmas 1977. Love, Roy Moore, D.A."
Jauregui suggested that the "D.A." next to Moore's name were the initials of his assistant at the time, a sign that the assistant had actually stamped Moore's signature.
Young this week accused Moore of sexually assaulting her in a diner parking lot in 1977, allegedly having offered to drive her home before he parked and attempted to grope her and remove her clothing.
She is the second woman to accuse Moore of sexual misconduct in the past seven days. Last week in The Washington Post, a woman accused Moore of touching her sexually when she was 14 years old and he was 32. Three other woman said Moore pursued a relationship with them around the same time when they were teenagers.
A sixth woman also came forward on Wednesday, accusing Moore of pinching her backside in 1991, when he was married and she was 28.
Moore is running for Senate in the Alabama special election taking place Dec. 12.  Source
Nov 8, 2017
bludotdaily.com
Howard Dean: Evidence Shows "Trump May Have Won with Falsified Votes"
Based on new evidence, a major Democratic Party figure believes vote totals in some of the more surprising swing states that Donald Trump won may have been falsified by Russian hackers.
It started when Time Magazine published new evidence that Russian hackers altered voter data. A key quote from the article suggests that "Congressional investigators are probing whether any of this stolen private information made its way to the Trump campaign."
This led former Vermont Governor and former DNC Chair Howard Dean to chime in with an assessment of his own:
ith this news, we've essentially gone from a Trump-Russia investigation centered around Russian hackers, the role they may have played in accessing voter data, and their tact in using that data (illegally) to aid the Trump campaign efforts, to something far worse…because the Russian hackers may have actually changed people's votes without their knowledge!
Considering the results in most swing states, which ranged from highly unlikely to practically impossible going in,  this news makes sense. After all, the odds of Trump winning every swing state he needed, especially considering where he stood in the overall popular vote, were slim to none.  Yet those odds suspiciously turned in his favor the night of the election, when he won every one of those swing states by the one percent of the vote needed in order to avoid an automatic recount. Hmmm.
Can you imagine if this new evidence proves to be true, and that Russian hackers actually changed people's votes, tipping the election in Trump's favor?
The evidence is there, folks. It's just a matter of if our elected leaders care enough to investigate to learn the truth.  Source
Nov 9, 2017
Washington Post
Woman says Roy Moore initiated sexual encounter when she was 14, he was 32
Leigh Corfman says she was 14 years old when an older man approached her outside a courtroom in Etowah County, Ala. She was sitting on a wooden bench with her mother, they both recall, when the man introduced himself as Roy Moore.
It was early 1979 and Moore — now the Republican nominee in Alabama for a U.S. Senate seat — was a 32-year-old assistant district attorney. He struck up a conversation, Corfman and her mother say, and offered to watch the girl while her mother went inside for a child custody hearing.
"He said, 'Oh, you don't want her to go in there and hear all that. I'll stay out here with her,' " says Corfman's mother, Nancy Wells, 71. "I thought, how nice for him to want to take care of my little girl."
Alone with Corfman, Moore chatted with her and asked for her phone number, she says. Days later, she says, he picked her up around the corner from her house in Gadsden, drove her about 30 minutes to his home in the woods, told her how pretty she was and kissed her. On a second visit, she says, he took off her shirt and pants and removed his clothes. He touched her over her bra and underpants, she says, and guided her hand to touch him over his underwear.
"I wanted it over with — I wanted out," she remembers thinking. "Please just get this over with. Whatever this is, just get it over." Corfman says she asked Moore to take her home, and he did.
Two of Corfman's childhood friends say she told them at the time that she was seeing an older man, and one says Corfman identified the man as Moore. Wells says her daughter told her about the encounter more than a decade later, as Moore was becoming more prominent as a local judge.
Aside from Corfman, three other women interviewed by The Washington Post in recent weeks say Moore pursued them when they were between the ages of 16 and 18 and he was in his early 30s, episodes they say they found flattering at the time, but troubling as they got older. None of the three women say that Moore forced them into any sort of relationship or sexual contact.
Wendy Miller says she was 14 and working as a Santa's helper at the Gadsden Mall when Moore first approached her, and 16 when he asked her on dates, which her mother forbade. Debbie Wesson Gibson says she was 17 when Moore spoke to her high school civics class and asked her out on the first of several dates that did not progress beyond kissing. Gloria Thacker Deason says she was an 18-year-old cheerleader when Moore began taking her on dates that included bottles of Mateus Rosé wine. The legal drinking age in Alabama was 19.
Of the four women, the youngest at the time was Corfman, who is the only one who says she had sexual contact with Moore that went beyond kissing. She says they did not have intercourse.
In a written statement, Moore denied the allegations.
"These allegations are completely false and are a desperate political attack by the National Democrat Party and the Washington Post on this campaign," Moore, now 70, said.
The campaign said in a subsequent statement that if the allegations were true they would have surfaced during his previous campaigns, adding "this garbage is the very definition of fake news."
After The Post published this story Thursday afternoon, Majority Leader Mitch McConnell (Ky.) and a handful of other GOP senators said Moore must step aside if Corfman's account is true.
According to campaign reports, none of the women has donated to or worked for Moore's Democratic opponent, Doug Jones, or his rivals in the Republican primary, including Sen. Luther Strange, whom he defeated this fall in a runoff election.
Corfman, 53, who works as a customer service representative at a payday loan business, says she has voted for Republicans in the past three presidential elections, including for Donald Trump in 2016. She says she thought of confronting Moore personally for years, and almost came forward publicly during his first campaign for state Supreme Court in 2000, but decided against it. Her two children were still in school then and she worried about how it would affect them. She also was concerned that her background — three divorces and a messy financial history — might undermine her credibility.
"There is no one here that doesn't know that I'm not an angel," Corfman says, referring to her home town of Gadsden.
Corfman described her story consistently in six interviews with The Post. The Post confirmed that her mother attended a hearing at the courthouse in February 1979 through divorce records. Moore's office was down the hall from the courtroom.
Neither Corfman nor any of the other women sought out The Post. While reporting a story in Alabama about supporters of Moore's Senate campaign, a Post reporter heard that Moore allegedly had sought relationships with teenage girls. Over the ensuing three weeks, two Post reporters contacted and interviewed the four women. All were initially reluctant to speak publicly but chose to do so after multiple interviews, saying they thought it was important for people to know about their interactions with Moore. The women say they don't know one another.
"I have prayed over this," Corfman says, explaining why she decided to tell her story now. "All I know is that I can't sit back and let this continue, let him continue without the mask being removed."
This account is based on interviews with more than 30 people who said they knew Moore between 1977 and 1982, when he served as an assistant district attorney for Etowah County in northern Alabama, where he grew up.
****
Moore was 30 and single when he joined the district attorney's office, his first government job after attending the U.S. Military Academy at West Point, serving in Vietnam, graduating from law school and working briefly as a lawyer in private practice in Gadsden, the county seat.
By his account, chronicled in his book "So Help Me God," Moore spent his time as a prosecutor convicting "murderers, rapists, thieves and drug pushers." He writes that it was "around this time that I fashioned a plaque of The Ten Commandments on two redwood tablets."
"I believed that many of the young criminals whom I had to prosecute would not have committed criminal acts if they had been taught these rules as children," Moore writes.
Outside work, Moore writes that he spent his free time building rooms onto a mobile home in Gallant, a rural area about 25 miles west of Gadsden.
According to colleagues and others who knew him at the time, Moore was rarely seen socializing outside work. He spent one season coaching the Gallant Girls, a softball team that his teenage sister had joined, said several women who played on the team. He spent time working out at the Gadsden YMCA, according to people who encountered him there. And he often walked, usually alone, around the newly opened Gadsden Mall — 6 feet tall and well-dressed in slacks and a button-down shirt, say several women who worked there at the time.
Corfman describes herself as a little lost — "a typical 14-year-old kid of a divorced family" — when she says she first met Moore that day in 1979 outside the courtroom. She says she felt flattered that a grown man was paying attention to her.
"He was charming and smiley," she says.
After her mother went into the courtroom, Corfman says, Moore asked her where she went to school, what she liked to do and whether he could call her sometime. She remembers giving him her number and says he called not long after. She says she talked to Moore on her phone in her bedroom, and they made plans for him to pick her up at Alcott Road and Riley Street, around the corner from her house.
"I was kind of giddy, excited, you know? An older guy, you know?" Corfman says, adding that her only sexual experience at that point had been kissing boys her age.
She says that it was dark and cold when he picked her up, and that she thought they were going out to eat. Instead, she says, he drove her to his house, which seemed "far, far away."
"I remember the further I got from my house, the more nervous I got," Corfman says.
She remembers an unpaved driveway. She remembers going inside and him giving her alcohol on this visit or the next, and that at some point she told him she was 14. She says they sat and talked. She remembers that Moore told her she was pretty, put his arm around her and kissed her, and that she began to feel nervous and asked him to take her home, which she says he did.
Soon after, she says, he called again, and picked her up again at the same spot.
"This was a new experience, and it was exciting and fun and scary," Corfman says, explaining why she went back. "It was just like this roller-coaster ride you've not been on."
She says that Moore drove her back to the same house after dark, and that before long she was lying on a blanket on the floor. She remembers Moore disappearing into another room and coming out with nothing on but "tight white" underwear.
She remembers that Moore kissed her, that he took off her pants and shirt, and that he touched her through her bra and underpants. She says that he guided her hand to his underwear and that she yanked her hand back.
"I wasn't ready for that — I had never put my hand on a man's penis, much less an erect one," Corfman says.
She remembers thinking, "I don't want to do this" and "I need to get out of here." She says that she got dressed and asked Moore to take her home, and that he did.
The legal age of consent in Alabama, then and now, is 16. Under Alabama law in 1979, and today, a person who is at least 19 years old who has sexual contact with someone between 12 and 16 years old has committed sexual abuse in the second degree. Sexual contact is defined as touching of sexual or intimate parts. The crime is a misdemeanor punishable by up to one year in jail.
The law then and now also includes a section on enticing a child younger than 16 to enter a home with the purpose of proposing sexual intercourse or fondling of sexual and genital parts. That is a felony punishable by up to 10 years in prison.
In Alabama, the statute of limitations for bringing felony charges involving sexual abuse of a minor in 1979 would have run out three years later, and the time frame for filing a civil complaint would have ended when the alleged victim turned 21, according to Child USA, a nonprofit research and advocacy group at the University of Pennsylvania.
Corfman never filed a police report or a civil suit.
She says that after their last encounter, Moore called again, but that she found an excuse to avoid seeing him. She says that at some point during or soon after her meetings with Moore, she told two friends in vague terms that she was seeing an older man.
Betsy Davis, who remains friendly with Corfman and now lives in Los Angeles, says she clearly remembers Corfman talking about seeing an older man named Roy Moore when they were teenagers. She says Corfman described an encounter in which the older man wore nothing but tight white underwear. She says she was firm with Corfman that seeing someone as old as Moore was out of bounds.
"I remember talking to her and telling her it's not a good idea," Davis says. "Because we were so young."
A second friend, who spoke on the condition of anonymity for fear of losing her job, has a similar memory of a teenage Corfman telling her about seeing an older man.
After talking to her friends, Corfman says, she began to feel that she had done something wrong and kept it a secret for years.
"I felt responsible," she says. "I felt like I had done something bad. And it kind of set the course for me doing other things that were bad."
She says that her teenage life became increasingly reckless with drinking, drugs, boyfriends, and a suicide attempt when she was 16.
As the years went on, Corfman says, she did not share her story about Moore partly because of the trouble in her life. She has had three divorces and financial problems. While living in Arizona, she and her second husband started a screen-printing business that fell into debt. They filed for bankruptcy protection three times, once in 1991 with $139,689 in unpaid claims brought by the Internal Revenue Service and other creditors, according to court records.
In 2005, Corfman paid a fine for driving a boat without lights. In 2010, she was working at a convenience store when she was charged with a misdemeanor for selling beer to a minor. The charge was dismissed, court records show.
The three other women who spoke to The Post say that Moore asked them on dates when they were between 16 and 18 and he was in his early 30s.
Gloria Thacker Deason says she was 18 and Moore was 32 when they met in 1979 at the Gadsden Mall, where she worked at the jewelry counter of a department store called Pizitz. She says she was attending Gadsden State Community College and still living at home.
"My mom was really, really strict and my curfew was 10:30 but she would let me stay out later with Roy," says Deason, who is now 57 and lives in North Carolina. "She just felt like I would be safe with him. . . . She thought he was good husband material."
Deason says that they dated off and on for several months and that he took her to his house at least two times. She says their physical relationship did not go further than kissing and hugging.
"He liked Eddie Rabbitt and I liked Freddie Mercury," Deason says, referring to the country singer and the British rocker.
She says that Moore would pick her up for dates at the mall or at college basketball games, where she was a cheerleader. She remembers changing out of her uniform before they went out for dinners at a pizzeria called Mater's, where she says Moore would order bottles of Mateus Rosé, or at a Chinese restaurant, where she says he would order her tropical cocktails at a time when she believes she was younger than 19, the legal drinking age.
"If Mother had known that, she would have had a hissy fit," says Deason, who says she turned 19 in May 1979, after she and Moore started dating.
Around the same time that Deason says she met Moore at the jewelry counter, Wendy Miller says that Moore approached her at the mall, where she would spend time with her mom, who worked at a photo booth there. Miller says this was in 1979, when she was 16.
She says that Moore's face was familiar because she had first met him two years before, when she was dressed as an elf and working as a Santa's helper at the mall. She says that Moore told her she looked pretty, and that two years later, he began asking her out on dates in the presence of her mother at the photo booth. She says she had a boyfriend at the time, and declined.
Her mother, Martha Brackett, says she refused to grant Moore permission to date her 16-year-old daughter.
"I'd say, 'You're too old for her . . . let's not rob the cradle,' " Brackett recalls telling Moore.
Miller, who is now 54 and still lives in Alabama, says she was "flattered by the attention."
"Now that I've gotten older," she says, "the idea that a grown man would want to take out a teenager, that's disgusting to me."
Debbie Wesson Gibson says that she was 17 in the spring of 1981 when Moore spoke to her Etowah High School civics class about serving as the assistant district attorney. She says that when he asked her out, she asked her mother what she would say if she wanted to date a 34-year-old man. Gibson says her mother asked her who the man was, and when Gibson said "Roy Moore," her mother said, "I'd say you were the luckiest girl in the world."
Among locals in Gadsden, a town of about 47,000 back then, Moore "had this godlike, almost deity status — he was a hometown boy made good," Gibson says, "West Point and so forth."
Gibson says that they dated for two to three months, and that he took her to his house, read her poetry and played his guitar. She says he kissed her once in his bedroom and once by the pool at a local country club.
"Looking back, I'm glad nothing bad happened," says Gibson, who now lives in Florida. "As a mother of daughters, I realize that our age difference at that time made our dating inappropriate."
By 1982, Moore was by his own account in his book causing a stir in the district attorney's office for his willingness to criticize the workings of the local legal system. He convened a grand jury to look into what he alleged were funding problems in the sheriff's office. In response, Moore writes, the state bar association investigated him for going against the advice of the district attorney, an inquiry that was dismissed.
Soon after, Moore quit and began his first political campaign for the county's circuit court judge position. He lost overwhelmingly, and left Alabama shortly thereafter, heading to Texas, where he says in his book that he trained as a kickboxer, and to Australia, where he says he lived on a ranch for a year wrangling cattle.
He returned to Gadsden in 1984 and went into private law practice. In 1985, at age 38, he married Kayla Kisor, who was 24. The two are still married.
A few years later, Moore began his rise in Alabama politics and into the national spotlight.
In 1992, he became a circuit court judge and hung his wooden Ten Commandments plaque in his courtroom.
In 2000, he was elected chief justice of Alabama's Supreme Court, and he soon installed a 5,280-pound granite Ten Commandments monument in the judicial building.
In 2003, he was dismissed from the bench for ignoring a federal court order to remove the monument, and became known nationally as "The Ten Commandments Judge."
Moore was again elected chief justice of the Alabama Supreme Court in 2012, and was again dismissed for ignoring a judicial order, this time for instructing probate judges not to issue marriage licenses to same-sex couples.
All of this has made Moore a hero to many Alabama voters, who consider him a stalwart Christian willing to stand up for their values. In a September Republican primary for the seat vacated by Attorney General Jeff Sessions, Moore defeated the appointed sitting senator, Luther Strange, who was backed by President Trump and other party leaders in Washington. Moore faces the Democratic nominee, Doug Jones, in a special election scheduled for Dec. 12.
On a visit home in the mid-1990s to see her mother and stepfather in Alabama, Corfman says, she saw Moore's photo in the Gadsden Times.
" 'Mother, do you remember this guy?' " Wells says Corfman said at the time.
That's when Corfman told her, Wells recalls. Her daughter said that not long after the court hearing in 1979, Moore took her to his house. Wells says that her daughter conveyed to her that Moore had behaved inappropriately.
"I was horrified," Wells says.
Years later, Corfman says, she saw a segment about Moore on ABC News's "Good Morning America." She says she threw up.
There were times, Corfman says, she thought about confronting Moore. At one point during the late 1990s, she says, she became so angry that she drove to the parking lot outside Moore's office at the county courthouse in Gadsden. She sat there for a while, she says, rehearsing what she might say to him.
" 'Remember me?' " she imagined herself saying.  Source
Nov 8, 2017
Washington Post
Exit poll results: How different groups of Virginians voted
See how different groups voted in the governor's race between Ralph Northam, Ed Gillespie and Cliff Hyra, and how their support compares with support for Donald Trump and Hillary Clinton in the 2016 Virginia exit poll. The poll was conducted by Edison Media Research for the National Election Pool, The Washington Post and other media organizations. See the bottom of the page for exit poll methodology.
By gender
Men made up a slight majority of voters for the first time in any recent Virginia election. But while men tend to vote more Republican, they favored Gillespie by just two points, smaller than Trump's nine-point edge last year.
Northam won female voters by 22 points, larger than Clinton's 17-point advantage last year.  Read more
Nov 7, 2017
cnn.com
Virginia voter suppression tweets went undetected by Twitter for hours
A Twitter account misleading Democratic voters in Virginia by telling them they could cast their ballot by text message was active for almost three hours on Tuesday morning before Twitter suspended the account.
The account, "MAGA Mike King," was suspended after it tweeted more than a dozen times a graphic purportedly instructing Virginians on how to vote by text and including the logos of the Democratic Party and its gubernatorial candidate, Ralph Northam.
The account doesn't appear to have had much success spreading its message, with less than a handful of interactions on each of the offending tweets, but to some observers that's almost beside the point. Their concern is that the account remained active for almost three hours out of the 13 hours that polls are open in Virginia, despite the fact that Twitter knows these sorts of efforts are a potential problem on its platform, and has claimed success in fighting back against them.
A similar voter suppression campaign, which attempted to convince supporters of Hillary Clinton that they could vote for her by text, went viral ahead of last year's presidential election. Read more
Nov 7, 2017
The Hill
Northam wins big in Virginia, thrilling Democrats
FAIRFAX, Va. — Lt. Gov. Ralph Northam (D) won the Virginia governor's race in a blowout Tuesday, fending off a potential gut punch for his party and giving Democrats a badly needed jolt of momentum ahead of the 2018 midterms.
Democrats had grown nervous about the race, fearing a devastating loss that could deal a blow to the party's momentum. But that anxiety gave way to rejoicing as Northam cruised to victory and Democrats took the New Jersey governor's mansion and posted gains in the Virginia House of Delegates.
Northam defeated Republican Ed Gillespie in the race to succeed Gov. Terry McAuliffe (D), in what has become the only competitive statewide race of the year. Northam's win gives Democrats their first major victory since President Trump took office after a string of high-profile special election defeats in GOP districts earlier this year.
Northam exceeded expectations in the race, building up huge vote leads in Democratic areas while competing well against Gillespie in Republican ones.
The resounding victory could help smooth over disputes within the party, as well as concerns about whether Democratic National Committee chairman Tom Perez is preparing the party for the midterms and capitalizing on anti-Trump sentiment.
As Democrats celebrated, Trump rushed to distance himself from Gillespie. Writing from South Korea, Trump blasted Gillespie in a tweet shortly after the race was called.
"Ed Gillespie worked hard but did not embrace me or what I stand for. Don't forget, Republicans won 4 out of 4 House seats, and with the economy doing record numbers, we will continue to win, even bigger than before!" Trump wrote. Read more
Nov 6, 2017
The Hill
Air Force failed to alert authorities to Texas gunman's domestic violence conviction
The Air Force failed to enter the Texas church shooter's domestic violence conviction into a federal database used for background checks on gun sales — a move that could have prevented him from purchasing a rifle used in Sunday's mass shooting.
The Pentagon announced a department-wide review of the case, and of relevant polices and procedures, after the Air Force said it did not put Devin Kelley's court-martial for domestic assault into the database used to run background checks for firearm sales.
Kelley went on a rampage at a church on Sunday, killed 26 people in Sutherland Springs, Texas.
Kelley had been court-martialed in 2012 for assaulting his wife and stepson, including cracking the infant's skull.
The conviction likely would have prevented Kelley from buying the military-style rifle that he used in the shooting, as well as three other guns he had purchased over the past four years, The New York Times reported.
"The Air Force has launched a review of how the service handled the criminal records of former Airman Devin P. Kelley following his 2012 domestic violence conviction," the Air Force said in a statement provided to The Hill. "Federal law prohibited him from buying or possessing firearms after this conviction."
Air Force Secretary Heather Wilson and Air Force Chief of Staff Gen. David Goldfein directed the Air Force Inspector General in collaboration with the Defense Department Inspector General to conduct a complete review of the Kelley case and relevant policies and procedures.
The probe will include "whether information about Kelley's conviction was properly entered into the National Criminal Information Center database."
Kelley was found dead in a car after a brief car chase following the shooting. Investigators said he shot himself, but his cause of death has yet to be determined, according to the newspaper. Source
October 31, 2017
Chester County Press
London, Maisano square off for County Treasurer seat 
If there is a proverbial elephant in the room in the race for Chester County Treasurer, it is not so much seen in its candidates, but in county history, and it's a fact that Republican Jack London and Democrat Dr. Patricia Maisano know very well.
The fact is this: Since Chester County began in 1799, the job of County Treasurer has belonged to a Republican. The wind of the Republican Party in Chester County may be on London's back, but he is being challenged by a candidate who wants to increase the transparency of the County Treasury and share its budgets, its spreadsheets and its expenditures with Chester County residents. As this race comes down to Nov. 7, two candidates with different agendas vie for the future direction of the seat they hope to occupy.
Jack London
Republican, President and Chief Executive Officer of London Financial Group, lives in West Grove with his wife and daughter
At the height of his 2016 campaign to defeat incumbent Andy Dinniman for the 19th District seat in the State Senate, Jack London was walking down Market Street in West Chester with Val DiGiorgio, then chairman of the Republican Committee for Chester County, when a passenger in a passing vehicle rolled down his window and said, "Jack London! We're voting for you! Go, Jack!"
London was on the top of the political world. He was polling ahead of Dinniman at the time. Contributions to his campaign were rolling in. He knocked on 21,000 doors. He was on TV and billboards. DiGiorgio told the Chester County Press that he felt the Committee was courting a rock star.
On Nov. 8, 2016 Dinniman was elected to another term in the Senate, but the loss did not devastate London. Instead, it reinvigorated his need to get back in the political fray.
"Winners don't always win, but they never quit," he said. "I finally found what I was put on this earth to do, which is to be involved in politics. This is what I was built for. Although we have some great leaders in this county, we need a new phase and a new benchmark of leadership. Of all the things I've ever done and the accomplishments I've made, this gave me the most fulfillment of anything. And I didn't even win."
If elected, London said that the bulk of his term as County Treasurer will be about finding and fixing any leaky holes of finances, budgets and allocations, but according to London, the holes are not in the County's coffers; they're in the State's. If elected, he wants to address the state's budget, 25 percent of which goes toward education, but 80 percent of that figure is wrapped up in the state's $70 billion pension program. It's not fair to the everyday taxpayer, he said.
"As a liability continues to increase, the increase in the budget can't keep pace," he said, "so less money goes to the school districts, and when less money is allocated toward education, the state comes to the taxpayer with a need to raise taxes."
As he runs for County Treasurer, much of London's campaign literature shows him standing beside fellow Republicans —  County Controller Norman McQueen, Clerk of Courts Robin Marcello and Coroner Dr. Gordon Eck. The message to voters suggests that power lay in party, one that has essentially pulled the levers and strings of county business for the past 200 years.
To London, however, his campaign is not about maintaining the status quo or toeing the party line, but finding the best leader for the job.
"I am by far the most qualified candidate between the two of us," said London, who has 20 years in financial management experience as President and Chief Executive Officer of London Financial Group. "I want to make this office run as productively as it can, and I want to save the taxpayers as much money as I can. It's a stepping stone process. Hopefully, I will do a great job, and if the people eventually think that I should take on a bigger role down the road, then I will. I just want to serve."
To learn more about Jack London, go to Facebook: Jack London for County Treasurer.
Dr. Patricia Maisano
Democrat, business Founder and Chief Information Officer of IKOR International Inc., lives in Kennett Township with her husband, Dan
At nearly every meeting hall and gathering Dr. Patricia Maisano has spoken at during her campaign for County Treasurer, there is a moment when she asks the audience if they know what their county's budget is. She then asks for a show of hands of those who know how their tax money is being spent at the county level.
"I have never seen anyone raise their hand," she said.
Running on a campaign of transparency, trust and integrity, Maisano wants to open the doors of a county department that she believes has been run in secrecy. If elected, she plans to create an easy access website that provides a full disclosure of the county books, including the county's budget and balance sheets, and a list of approved county projects and what they will cost.
"These are the three components I've lived my life on," she said. "We need to do the right thing, because it's the right thing to do. Someone has to start that ball rolling. Someone has to do it and not be afraid. We have a budget, and people have a right to know what their budget is, and what the balance sheets look like."
Maisano said that her education and professional background creates a perfect dovetail with the duties of County Treasurer. A former registered nurse with a Ph.D. in Health Sciences, Maisano is the founder and CIO of IKOR International Inc., a for-profit company that provides patient advocacy and professional guardianship services to the profoundly disabled and seniors. Begun in Chester County 18 years ago, IKOR has grown to 70 offices in 20 states.
"All nurses have a natural sense of compassion, a feeling of helping other people to fashion the lives they wish to have," she said. "Our work with seniors and the disabled has been an incredible journey of giving people the ability to be heard, in a society that doesn't listen to those two groups of people.
"There is a whole segment of Chester County residents who have never had their voice heard. Since 1799, this county has been run strictly by the Republican Party, so I think it's about time that we allow other people to be heard, and hear what they're looking for in county offices."
In addition to increasing transparency, Maisano, if elected, will look for ways to eliminate what she feels is the county's "very unnecessary" use of vendors who are based outside the county, a practice she feels funnels revenue away from the county. She will also seek to examine — and reduce — the county's debt level.
"The debt level in the county has gone up and up and up," she said. "We are $62 million in debt, in the third richest county in this country. I am a person of logic. Help me understand why that is so. How did we get here? If the Republicans have that answer, bring it forward. Share it with the people. That's what I am aiming for.
"I am not running against Republicans," Maisano added. "I am running for the people. Everyone in this county needs to have the ability to have their voice heard. I don't want to fight Republicans. There's too much anger, and it's dividing us. We can help to change that by picking ability over party, and compassion and dedication for the job over party."
To learn more about Dr. Patricia Maisano, visit 
www.maisano4treasurer.com
.
Oct 24, 2017
nytimes.com
Clinton Campaign and Democratic Party Helped Pay for Russia Trump Dossier
WASHINGTON — The presidential campaign of Hillary Clinton and the Democratic National Committee paid for research that was included in a dossier made public in January that contained salacious claims about connections between Donald J. Trump, his associates and Russia.
A spokesperson for a law firm said on Tuesday that it had hired Washington-based researchers last year to gather damaging information about Mr. Trump on numerous subjects — including possible ties to Russia — on behalf of the Clinton campaign and the D.N.C.
The revelation, which emerged from a letter filed in court on Tuesday, is likely to fuel new partisan attacks over federal and congressional investigations into Russia's attempts to disrupt last year's election and whether any of Mr. Trump's associates assisted in the effort.
The president and his allies have argued for months that the investigations are politically motivated. They have challenged the information contained in the dossier, which was compiled by a former British spy who had been contracted by the Washington research firm Fusion GPS.
The letter that was filed in court said that Fusion GPS began working for the law firm, Perkins Coie, in April 2016. Written by the firm's managing partner Matthew J. Gehringer, the letter said that Fusion GPS had already been conducting the research "for one or more other clients during the Republican primary contest." Read more
Oct 23, 2017
nytimes.com
Latest Bill O'Reilly Case Is 'Jaw-Dropping,' Megyn Kelly Says
In an unusual attack on a former employer, the NBC host Megyn Kelly used her morning show on Monday to denounce her former Fox News colleague Bill O'Reilly and the cable network where she used to work.
Ms. Kelly's remarks came after The New York Times reported on Saturdaythat Mr. O'Reilly agreed to pay Lis Wiehl, a former Fox News legal analyst, $32 million to settle sexual harassment allegations. A statement posted on Mr. O'Reilly's website on Saturday described The Times's article as a "smear piece."
"I spent this weekend on the phone nonstop, talking to many women at Fox News and otherwise, who are deeply disturbed over the latest New York Times report," Ms. Kelly said at the start of her show, "Megyn Kelly Today."
Ms. Kelly distinguished herself during her years at Fox News with her tough questioning of guests. Her NBC persona was supposed to be sunnier, but her prosecutorial streak was in evidence Monday as she invoked the O. J. Simpson case while discussing Mr. O'Reilly.
After citing the $32 million sum, Ms. Kelly said, "That is a jaw-dropping figure." Referring to Ronald Goldman and Nicole Brown Simpson, she added: "O. J. Simpson was ordered to pay the Goldman and Brown families $33.5 million for the murders of Ron and Nicole. What on earth would justify that amount? What awfulness went on?"
Ms. Kelly had also invited Juliet Huddy, another former Fox employee who reached a settlement agreement after accusing Mr. O'Reilly of sexual harassment, to be a guest on the show Monday. Read more & video
Oct 23, 2017
Rachel Maddow: "While we are all sidetracked by Trump/Pence and the NFL, Trump vs. Puerto Rico, Harvey Weinstein & the Sexual Predation of All Hollywood, the Russian Hacking of the election, or the MLB American League Division Playoffs this week, it's worth noting that the following bills have been introduced in the House of Representatives":
1. HR 861 to Terminate the Environmental Protection Agency (Like to breathe? This one is not for you.)
2. HR 610 – Vouchers for Public Education (which may end free public education as we know it)
3. HR 899 to Terminate the Department of Education (which may lead to greater disparity between states but nobody who uses public education ever moves so it's all good)
4. HR 69 to Repeal the Rule Protecting Wildlife (nobody likes nature anyway, right?)
5. HR 370 to Repeal the Affordable Care Act (didn't we already try this umpteen times?)
6. HR 354 to De-fund Planned Parenthood (because exactly none of your tax dollars go toward abortion services)
7. HR 785 – National "Right to Work" (this one is actually a 'Right to fire you whenever your boss feels like it" law, and it would effectively end unions)
8. HR 83 – Mobilizing Against Sanctuary Cities Bill (California should just secede now and take all its money)
9. HR 147 to Criminalize Abortion ("Prenatal Nondiscrimination Act") (because these private decisions should be made by your legislator and employer)
10. HR 808 to Impose Sanctions Against Iran (even though they are in compliance with the agreement according to those in the know)
Oct 18, 2017
Montana Public Radio
Whitefish Company Wins Power Restoration Contract In Puerto Rico
A small company in Whitefish has won a major contract to restore power to Puerto Rico following widespread outages from Hurricane Maria. Nicky Ouellet reports there's some confusion over why the Montana company was chosen.
Whitefish Energy Holdings is relatively new to the Flathead Valley. The company was established in 2015. It doesn't have an office and only lists two employees. Yet it won a bid with the Puerto Rico Power Electric Authority, or PREPA, to rebuild more than 100 miles of downed transmission lines following a near system failure after two hurricanes hit the island in September. The contract is garnering national attention. The Weather Channel had a story this week:  Read more
Oct 16, 2017
Medium
Remarks At The 2017 Liberty Medal Ceremony
John McCain
Thank you, Joe, my old, dear friend, for those mostly undeserved kind words. Vice President Biden and I have known each other for a lot of years now, more than forty, if you're counting. We knew each other back when we were young and handsome and smarter than everyone else but were too modest to say so.
Joe was already a senator, and I was the Navy's liaison to the Senate. My duties included escorting senate delegations on overseas trips, and in that capacity, I supervised the disposition of the delegation's luggage, which could require — now and again — when no one of lower rank was available for the job — that I carry someone worthy's bag. Once or twice that worthy turned out to be the young senator from Delaware. I've resented it ever since.
Joe has heard me joke about that before. I hope he has heard, too, my profession of gratitude for his friendship these many years. It has meant a lot to me. We served in the Senate together for over twenty years, during some eventful times, as we passed from young men to the fossils who appear before you this evening.
We didn't always agree on the issues. We often argued — sometimes passionately. But we believed in each other's patriotism and the sincerity of each other's convictions. We believed in the institution we were privileged to serve in. We believed in our mutual responsibility to help make the place work and to cooperate in finding solutions to our country's problems. We believed in our country and in our country's indispensability to international peace and stability and to the progress of humanity. And through it all, whether we argued or agreed, Joe was good company. Thank you, old friend, for your company and your service to America.
Thank you, too, to the National Constitution Center, and everyone associated with it for this award. Thank you for that video, and for the all too generous compliments paid to me this evening. I'm aware of the prestigious company the Liberty Medal places me in. I'm humbled by it, and I'll try my best not to prove too unworthy of it.
Some years ago, I was present at an event where an earlier Liberty Medal recipient spoke about America's values and the sacrifices made for them. It was 1991, and I was attending the ceremony commemorating the 50th anniversary of the attack on Pearl Harbor. The World War II veteran, estimable patriot and good man, President George H.W. Bush, gave a moving speech at the USS Arizona memorial. I remember it very well. His voice was thick with emotion as he neared the end of his address. I imagine he was thinking not only of the brave Americans who lost their lives on December 7, 1941, but of the friends he had served with and lost in the Pacific where he had been the Navy's youngest aviator.
"Look at the water here, clear and quiet …" he directed, "One day, in what now seems another lifetime, it wrapped its arms around the finest sons any nation could ever have, and it carried them to a better world."
He could barely get out the last line, "May God bless them, and may God bless America, the most wondrous land on earth."
The most wondrous land on earth, indeed. I've had the good fortune to spend sixty years in service to this wondrous land. It has not been perfect service, to be sure, and there were probably times when the country might have benefited from a little less of my help. But I've tried to deserve the privilege as best I can, and I've been repaid a thousand times over with adventures, with good company, and with the satisfaction of serving something more important than myself, of being a bit player in the extraordinary story of America. And I am so very grateful.
What a privilege it is to serve this big, boisterous, brawling, intemperate, striving, daring, beautiful, bountiful, brave, magnificent country. With all our flaws, all our mistakes, with all the frailties of human nature as much on display as our virtues, with all the rancor and anger of our politics, we are blessed.
We are living in the land of the free, the land where anything is possible, the land of the immigrant's dream, the land with the storied past forgotten in the rush to the imagined future, the land that repairs and reinvents itself, the land where a person can escape the consequences of a self-centered youth and know the satisfaction of sacrificing for an ideal, the land where you can go from aimless rebellion to a noble cause, and from the bottom of your class to your party's nomination for president.
We are blessed, and we have been a blessing to humanity in turn. The international order we helped build from the ashes of world war, and that we defend to this day, has liberated more people from tyranny and poverty than ever before in history. This wondrous land has shared its treasures and ideals and shed the blood of its finest patriots to help make another, better world. And as we did so, we made our own civilization more just, freer, more accomplished and prosperous than the America that existed when I watched my father go off to war on December 7, 1941.
To fear the world we have organized and led for three-quarters of a century, to abandon the ideals we have advanced around the globe, to refuse the obligations of international leadership and our duty to remain "the last best hope of earth" for the sake of some half-baked, spurious nationalism cooked up by people who would rather find scapegoats than solve problems is as unpatriotic as an attachment to any other tired dogma of the past that Americans consigned to the ash heap of history.
We live in a land made of ideals, not blood and soil. We are the custodians of those ideals at home, and their champion abroad. We have done great good in the world. That leadership has had its costs, but we have become incomparably powerful and wealthy as we did. We have a moral obligation to continue in our just cause, and we would bring more than shame on ourselves if we don't. We will not thrive in a world where our leadership and ideals are absent. We wouldn't deserve to.
I am the luckiest guy on earth. I have served America's cause — the cause of our security and the security of our friends, the cause of freedom and equal justice — all my adult life. I haven't always served it well. I haven't even always appreciated what I was serving. But among the few compensations of old age is the acuity of hindsight. I see now that I was part of something important that drew me along in its wake even when I was diverted by other interests. I was, knowingly or not, along for the ride as America made the future better than the past.
And I have enjoyed it, every single day of it, the good ones and the not so good ones. I've been inspired by the service of better patriots than me. I've seen Americans make sacrifices for our country and her causes and for people who were strangers to them but for our common humanity, sacrifices that were much harder than the service asked of me. And I've seen the good they have done, the lives they freed from tyranny and injustice, the hope they encouraged, the dreams they made achievable.
May God bless them. May God bless America, and give us the strength and wisdom, the generosity and compassion, to do our duty for this wondrous land, and for the world that counts on us. With all its suffering and dangers, the world still looks to the example and leadership of America to become, another, better place. What greater cause could anyone ever serve.
Thank you again for this honor. I'll treasure it.
Oct 16, 2017
The Inquirer
Candidate falls for hoax, proposes drug-sniffing police bunnies
When asked about drugs at a Phoenixville mayoral forum, Republican nominee Dave Gautreau proposed that, if elected, he would look into getting drug-sniffing bunnies for the borough police department.
Though it seems like a harebrained idea, Gautreau was as serious as the killer rabbit of Caerbannog.
"I was dead-serious," he said of the idea he presented at the Thursday forum. "I would not make a joke about a rabbit if I did not believe it to be true." Read more
Oct 14, 2017
PennLive
Pa. congressman says Puerto Rico hurricane victims aren't dying
The death and disease count continues to climb in Puerto Rico after Hurricane Maria devastated the U.S. territory.
As of Wednesday, 45 people died as a result of the hurricane damage, and four of those deaths were because of drinking contaminated water, authorities said.
A third of Puerto Ricans are without water, and 89 percent of residents there do no have electricity.
The U.S. government said it expects electricity to be fully restored by March.
The lack of resources has pushed residents to contaminated streams and waterways to try and satisfy their thirst.
Those waterways, contaminated by animal urine and other toxins, has made at least 10 more people sick with leptospirosis. The disease causes high fever, vomiting and jaundice, among other symptoms. Read more
Oct 11, 2017
philly.com
Pedro Cortes, Pa. secretary of state, steps down
Pedro Cortes, Pennsylvania's secretary of state, abruptly resigned from office Wednesday, three weeks after his agency came under criticism for a glitch that may have allowed thousands of ineligible immigrants statewide to vote.
Cortes' departure was announced in a 349-word "personnel update" emailed from Gov. Wolf's office that offered no reason and focused almost entirely on his replacement, interim Secretary of State Robert Torres.
Just 14 of the words were about Cortes, who also served as secretary of state from 2003 to 2010 under Gov. Ed Rendell.
J.J. Abbott, a spokesman for Wolf, said he could not offer an explanation for Cortes' departure.
As secretary of state, Cortes served as the state's top election official. His departure comes a week after State Rep. Daryl Metcalfe, chairman of the House State Government Committee, and 15 of his colleagues sent Cortes a letter "to express our dire concerns" about the disclosure three weeks ago that legal resident noncitizens in Pennsylvania had been offered the chance to register to vote while applying for or renewing drivers' licenses at PennDot service centers.
Metcalfe, a Butler County Republican who has been preparing to hold a hearing on the issue before the Nov. 7 general election, said he received a phone call from the governor's office Wednesday to inform him Cortes was stepping down. He said he and his colleagues are still waiting on an answer to their questions in last week's letter.
"I'm not sure why [Cortes resigned] or what's going on, but we're hopeful to get answers to very important questions," Metcalfe said. "We were hoping to hold [the hearing] to get answers to questions that are important to Pennsylvania voters about how these foreign nationals have gotten onto the voter rolls."
Metcalfe first raised the issue during a  hearing of his committee in October 2016 while Cortes was testifying.
"Cortes knew this was an issue," Metcalfe said. "It is interesting that his resignation occurred within a week of our letter to him about this serious issue."
Philadelphia City Commissioner Al Schmidt pushed the issue into the spotlight three weeks ago when he announced that his staff found 317 noncitizens who had canceled their voter registrations in the city from 2006. The data dates back to 2006 because that is when the state started using the Statewide Uniform Registry of Electors, which provides reliable statistics about voters in the state.
In Allegheny County, election officials found 96 cases of noncitizens canceling their voter registrations since 2006.
The Department of State then said it had records of 1,160 canceled voter registrations listing ineligibility as a reason and said the issue was under review.
Schmidt's office found documentation from 220, either through direct contact or via an attorney, canceling the voter registrations. Of those 220, 44 voted in one election and 46 voted in more than one election. All of the 317 registrations have been canceled.
Schmidt said his staff traced the problem for 168 of the 220 documented cases to PennDot centers, where they produced immigration documents  to show they were in this country legally and eligible for a driver's license.
Later in the process, the applicants were asked to check a box on an electronic kiosk if they also wanted to register to vote. That is part of "Motor Voter," a federal law passed that has been in effect since 1995 to encourage voter registration.
The Department of State last month said it started changing the order of questions on the PennDot kiosks in August 2016 to address the problem.
And Wolf's office noted that the "glitch has existed for decades, through Republican and Democratic administrations," and Wolf's staff "is actually taking action to fix it."
Oct 4, 2017
zerohedge.com
This Isn't A Joke: The IRS Just Hired Equifax To Safeguard Taxpayer Data
Just hours after Equifax CEO Rick Smith wrapped up his testimony before the House Energy and Commerce committee – the first in a series of Congressional "fact-finding missions" about the hack – Politico reported that the IRS last week awarded the disgraced credit monitoring bureau with a $7.25 no-bid contract even as the company struggled to address suspicions that it mislead investors and customers by withholding information about one of the most damaging data breaches in US history.
Equifax famously waited more than a month to disclose that hackers had infiltrated its servers and absconded with the sensitive financial information of more than 140 million customers, sparking widespread outrage that only intensified after reporters discovered that several of the company's senior executives – including its CFO – cashed out of shares and options in the weeks before the company came clean about the hack. Read more
Sept 16, 2017
Raging Chicken Press
PA House Member Promises to Run Over Protesters in Wake of St Louis Demonstrations
Pennsylvania House Republican and self-described Christain Aaron Bernstine promised to run over protesters blocking traffic in the wake of the demonstrations taking place in St. Louis. In the late night tweet, Bernstein stated "If anyone EVER tries to stop my car on a highway with negative intentions… I will not stop under any conditions." Read more
Sept 16, 2017
Yahoo
Mueller just obtained a warrant that could change the entire nature of the Russia investigation
Robert Mueller obtained a search warrant for records of "inauthentic" Facebook accounts
It's bad news for Russian election interference "deniers"
Mueller may be looking to charge specific foreign entities with a crime
FBI Special Counsel Robert Mueller reportedly obtained a search warrant for records of the "inauthentic" accounts Facebook shut down earlier this month and the targeted ads these accounts purchased during the 2016 election.
The warrant was first disclosed by theWall Street Journalon Friday night and the news was laterconfirmed by CNN.
Legal experts say the revelation has enormous implications for the trajectory of Mueller's investigation into Russia's election interference, and whether Moscow had any help from President Donald Trump's campaign team.
"This is big news — and potentially bad news for the Russian election interference 'deniers,'"said Asha Rangappa, a former FBI counterintelligence agent. Read more
Sept 13, 2017
Fox News insider
DHS Bans Use of Kaspersky Lab Software in US Government
The Department of Homeland Security has instructed federal agencies and departments to stop using products from Moscow-based cybersecurity firm Kaspersky Lab.
Officials say that the prominent company poses a threat to U.S. national security and have given government agencies and departments 90 days to get rid of Kaspersky Lab software.
"The Department is concerned about the ties between certain Kaspersky officials and Russian intelligence and other government agencies, and requirements under Russian law that allow Russian intelligence agencies to request or compel assistance from Kaspersky and to intercept communications transiting Russian networks," DHS officials said, in a statement on the "Binding Operational Directive" to agencies and departments. "The risk that the Russian government, whether acting on its own or in collaboration with Kaspersky, could capitalize on access provided by Kaspersky products to compromise federal information and information systems directly implicates U.S. national security," it added.
The DHS is instructing departments and agencies to identify any use Kaspersky products on their information systems in the next 30 days and to develop detailed plans to remove the software in the next 60 days. Unless directed otherwise by DHS based on new information, agencies and departments have 90 days from the date of the directive to discontinue use of Kaspersky Lab products.
The directive suggests the U.S. government puts some credence in reports that the popular antivirus company, and its founder Eugene Kaspersky, have close ties to Russian intelligence services. Read more
Sept 12, 2017
Washingtontimes.com
Stunning testimony: Voting machines can be hacked without a trace of evidence
The country's voting machines are susceptible to hacking, which could be done in a way so that it leaves no fingerprints, making it impossible to know whether the outcome was changed, computer experts told President Trump's voter integrity commission Tuesday.
The testimony marked a departure for the commission, which was formed to look into fraud and barriers to voting, but which heard that a potentially greater threat to confidence in American elections is the chance for enemy actors to meddle.
"There's no perfect security; there's only degrees of insecurity," said Ronald Rivest, a professor at the Massachusetts Institute of Technology.
He said hackers have myriad ways of attacking voting machines. "You don't want to rest the election of the president on, 'Maybe the Wi-Fi was turned on when it shouldn't have been.'"
He and two other computer security experts said bar codes on ballots and smartphones in voting locations could give hackers a chance to rewrite results in ways that couldn't be traceable, short of sampling of ballots or hand recounts — and those work only in cases where there's a paper trail. Read more
Sept 11, 2017
The Inquirer
Students tell of death threats, racial epithets at Chesco school
Wearing a red cheerleader's uniform and a bow in her hair, a petite girl stood in front of a crowd in a packed auditorium Monday night, and said she had been called a lesbian and told to kill herself.
Other students at West Chester East High School spoke of being called the "n-word," "dirty Mexicans," and "cracker." A few said they were told they would be killed at school Monday. One said her sister, an eighth grader, also had been threatened.
The students said those messages came on an Instagram page called "East Shade Room," where pictures of several students at West Chester East were posted, along with the Instagram labels of three students in particular and the comment: "If you guys come to school tomorrow, you will die."
One posting on the page read, "I feel bad for y'all. Because y'all think it's a joke. Each and everyone on [sic] those n—s will be killed tomorrow."
Some students who were targeted spoke to parents and area residents Monday night at a community meeting at Charles A. Melton Arts and Education Center in West Chester.
West Goshen Township police said earlier Monday that they had a suspect in custody who admitted posting the threats. Police said that the individual posed "no threat of violence" but that the Chester County District Attorney's Office was reviewing the case.
Neither police nor West Chester Area School Superintendent Jim Scanlon would say if the person is a student at the school. Read more
August 21, 2017
MultiState
States Charge Hybrid & Electric Vehicle Owners for Share of Road Costs
States are still struggling to scrounge up the money to fully fund transportation infrastructure investment, which is why 22 states have raised state fuel taxes since 2012. But most transportation policy experts and state lawmakers say that relying on gas tax revenues to fund infrastructure is not a long-term solution. Although gas taxes were once a reliable, efficient revenue source, they've stagnated and lost much of their effectiveness over the past few decades.
Today, fixed per-gallon gas tax rates in most states are not indexed to inflation, and despite a recent uptick, states are still reluctant to raise unpopular gas taxes to full-funding levels (Congress hasn't raised the federal gas tax for nearly 25 years. With inflation deteriorating the purchasing power of gas tax revenues each year, other factors contributing to the gas tax's growing ineffectiveness include more fuel-efficient vehicles, thanks to federal Corporate Average Fuel Economy (CAFE) standards, and consumer demand for fuel efficiency putting pressure on manufacturers. Finally, although electric and hybrid cars still make up a small fraction of overall vehicles, they're growing in popularity. These vehicles pay little, if any, gas taxes, yet still cause the same wear and tear on the roads as similarly-sized gas-powered vehicles. State lawmakers see an opening with this last factor: Enacting special fees for electric and hybrid vehicles to pay their fair share to maintain and build state roads.
Seventeen States Have Passed Special Fees for Electric Vehicles
Lawmakers in 17 states have passed legislation to charge electric vehicles special fees to fund maintaining and constructing roads and bridges. Seven of those states also apply fees on hybrid vehicles, which use both electric and gas power. For a full listing and details of these state laws, see our chart here.
These special fees range from a high of $200 (Georgia and West Virginia for electrics) to a low of $30 (Oklahoma and Michigan for hybrids) per year. Fees for electric-only vehicles are generally higher than those for hybrid vehicles, presumably because hybrid vehicles still require gasoline and contribute to gas tax revenues (albeit to a much lesser extent than traditional gas-powered vehicles).
Owners of electric (and sometimes hybrid) vehicles are required to pay these fees on an annual basis in most of these states. New legislation in South Carolina calls for a biennial fee, while the Wyoming Attorney General's Office has interpreted its state law as requiring a one-time fee instead of an annual fee.
Fees in many of the states that passed legislation this year won't go into effect until 2018. California's fee on electric vehicles won't go into effect until 2020 and will only apply to model year vehicles 2020 or later.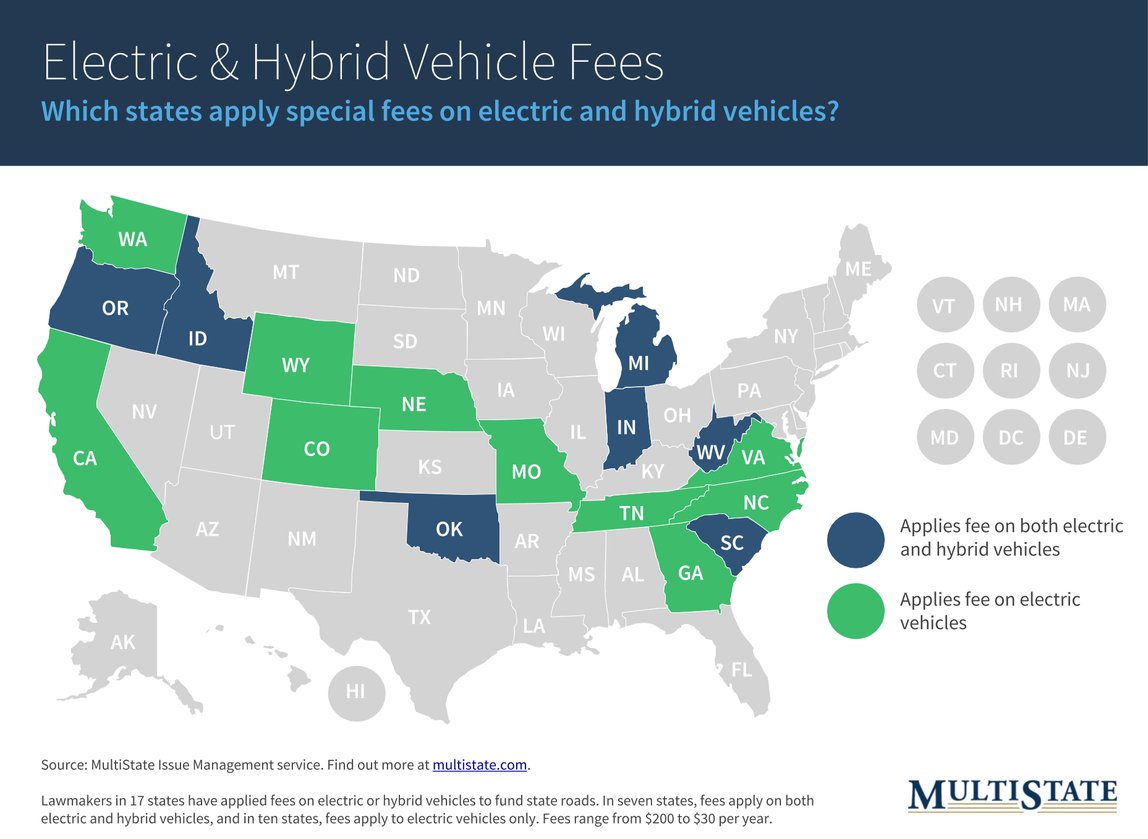 A Fast-Growing Trend
As of 2012, only Missouri and Nebraska charged electric vehicles additional fees. At the end of last year, eight additional states had passed similar fees, and 2017 alone has seen seven new states pass special fees on electric vehicles.
As we've noted before, each of the seven major transportation funding bills that states passed this year contained additional fees for electric vehicles. Six of those bills became law, while Montana Governor Steve Bullock (D) vetoed his state's legislation containing an electric vehicle fee. Oklahoma passed a standalone bill this year focused on adding additional fees for both electric and hybrid vehicles in the state, which the Sierra Club is now challenging in court.
Are the Fees Worth It?
Critics argue that states should be encouraging consumers to purchase environmentally friendly vehicles, and applying a new fee could dissuade them from choosing an electric or hybrid option. Others argue that the annual fees are relatively small ($30-230) in a market where starting prices for new electric vehicles are$30,000 and up. When state and federal tax credits and savings at the pump are factored in (there's still a $7,500 federal income tax credit for purchases of electric vehicles, while state credits are becoming more rare), annual fees for road maintenance may not be enough to dissuade consumers in the market for an electric vehicle. If, and when, that becomes the case, it'll mean that electric cars have become established in the industry and more than just a niche for environmentally conscious buyers.
We expect more states to add fees for electric and hybrid vehicles as lawmakers struggle with producing revenue to pay for roads and bridges. While the number of hybrid and electric vehicles on the roads is still small and revenues from these fees are not substantial, the sales for these green and fuel-efficient cars are expected to continue to grow rapidly as the technology improves. Source
August 31, 2017
CNN.com
Harvey aftermath: Explosions reported at flooded chemical plant
(CNN)Two explosions and plumes of black smoke were reported at a flooded chemical plant in Crosby, Texas on Thursday, officials said.
One deputy has been taken to the hospital after he inhaled fumes from the Arkema peroxide plant, the Harris County sheriff's office tweeted. Nine others drove themselves to the hospital as a precaution, the sheriff's office said. Read more
August 30, 2017
Business Insider
Chemical company CEO says there's no way to prevent its Texas plant from exploding amidst severe flooding from Harvey
Aug 30 (Reuters) – Arkema's North America chief executive said on Wednesday the company has no way of preventing chemicals from catching fire or exploding at its heavily flooded plant in Crosby, Texas.
The company evacuated remaining workers on Tuesday and Harris County ordered the evacuation of residents in a 1.5-mile radius of the plant that makes organic chemicals.
Richard Rowe, who is chief executive of the company's North America unit, told reporters the company expects chemicals on site to catch fire or explode within the next six days. He said the company has no way to prevent a fire or potential explosion near the plant that is swamped by about six feet of water. Read more
August 15, 2017
Philly.com
Chester Co. sheriff, a Trump fan, says Facebook post amid violence in Charlottesville was ill-timed
In a Facebook post on Saturday that has since been deleted, Chester County Sheriff Carolyn Bunny Welsh, a vocal supporter of President Trump, showed off her new purchase: a recently released book by right-wing provocateur and filmmaker Dinesh D'Souza called The Big Lie: Exposing the Nazi Roots of the American Left.
The post came on the same day that white supremacists bearing tiki torches wended through Charlottesville, Va., chanting "blood and soil" and waving Nazi and Confederate flags. Skirmishes broke out in the streets as the marchers clashed with counterprotesters.
One participant, James Alex Fields Jr., allegedly plowed his car into a gathering of the counterprotesters, killing 32-year-old Heather Heyer and injuring 19 people. Fields' mother said later that she believed he was attending a Trump event, not a white supremacist march.
In an interview at her West Chester office Tuesday, Welsh said that her post was not intended to deflect criticism of the white supremacists onto those who arrived to counter them.
"It was poor timing," Welsh said. Read more
July 5, 2017
NBC News
Hobby Lobby Agrees to Return Artifacts Smuggled From Iraq
The arts-and-crafts chain Hobby Lobby will pay $3 million to settle a federal case over smuggled Iraqi antiquities it bought to demonstrate its "passion for the Bible."
The Oklahoma-based retailer also agreed to forfeit thousands of clay artifacts it bought in 2010 — an acquisition that prosecutors said was "fraught with red flags" the company didn't heed. Read more
June 5, 2017
Philly.com
PA GOP chair DiGiorgio talks race for governor, Russian investigation
Valentino F. "Val" DiGiorgio III has had quite a year. He was running for chairman of the Pennsylvania Republican Party at the same time Donald Trump was running for president last year. DiGiorgio, an attorney at a Center City law firm, won the post in a hotly contested election in February. Four months into the job, we spoke with him last week about the last year and the coming challenges for his party.
When did you first see President Trump's Pennsylvania victory coming?
"As I started to travel the state for my campaign for state chairman I saw two states — Southeastern Pennsylvania where then-candidate Trump was trailing by 15 to 20 points, and the rest of the state, where the state chairman and activists were saying they'd never seen anything like this. I think by the summer I had decided he could win Pennsylvania."
You were chairman of the Republican Party in Chester County, where Trump did not win in November. Did that affect your campaign to be state chairman?
"It affected it. The folks running against me made a caricature of me as some corrupt Republican-in-name-only politician who was a 'Never-Trumper.' Now I was with [U.S. Sen. Marco] Rubio early on. But once Rubio was out I was for Trump. And they played that up. And in trying to play that up they tried to paint the narrative that I somehow didn't work for Trump in Chester County. Nothing could be further from the truth." Read more
June 3, 2017
YC
State Rep. Margo Davidson's son gets slap on the wrist for heroin ring
Robert Davidson, son of State Representative Margo Davidson, was sentenced following his two arrests that shocked constituents during his mother's campaign in early November.
Davidson was charged with numerous counts of possession with intent to deliver after police in Upper Darby witnessed a drug buy and made chase just minutes from his mother's office. While incarcerated, Davidson made an extremely incriminating phone call to an unknown person, asking for them to go and clean out the apartment.
Unfortunately for Davidson, Upper Darby Police obtained a search warrant for the location as all phone calls made from George W. Hill Correctional Facility are subject to monitoring and recording. After serving the warrant, police came across what they called a drug "warehouse," according to Upper Darby Police Superintendent Michael Chitwood. Davidson received additional charges following the search of his apartment. Upper Darby Police confiscated 301 bags of heroin, 16 bags of cocaine, 18 vials of marijuana and, two vials of methamphetamine, more than $5,000 cash and a gun reported stolen from Springfield. Read more
May 26, 2017
abcNEWS
Survey: CEO pay up
The typical raise for S&P 500 CEO's accelerated last year.
The typical big-company CEO raked in $11.5 million last year in salary, stock and other compensation, according to a study by executive data firm Equilar for The Associated Press. That's an 8.5 percent raise from a year earlier, the biggest in three years.
The bump reflects how well stocks have done under these CEOs' watch. Boards of directors increasingly require that CEOs push their stock price higher to collect their maximum possible payout, and the Standard & Poor's 500 index returned 12 percent last year.
Over the last five years, median CEO pay in the survey has jumped by 19.6 percent, not accounting for inflation. That's nearly double the 10.9 percent rise in the typical weekly paycheck for full-time employees across the country.
Here are some other highlights from the AP's annual package of stories on CEO pay, which was published this past week. To see the full roundup, please visit apnews.com/tag/SpecialReport:CEOpay
THE TOP OF THE CHARTS
The top-paid CEO last year was Thomas Rutledge of Charter Communications, at $98 million. The vast majority of that came from stock and option awards included as part of a new five-year employment agreement, and Charter's stock will need to more than double for Rutledge to collect the full amount.
No. 2 on the compensation list last year was Leslie Moonves of CBS, who earned $68.6 million. No. 3 was Walt Disney's Robert Iger, who made $41 million. The media business is full of big paychecks, where actors and other employees far from the executive suites can make millions of dollars, and the industry's CEOs have traditionally pulled down some of the country's biggest packages. Read more
May 3, 2017
PA GOP Chairman Val Digiorgio speaks to FOX News about President Trump's First 100 days
Val DiGiorgio on Trump video here
May 4, 2017
PHiladelphia Weekly
Why did the CEO of Philly's largest Latino organization attend a Trump rally?
Among the thousands of faces in the crowd at the Donald Trump rally in Harrisburg last weekend, one stood out in particular for Philadelphia Latinos: Carolina Cabrera DiGiorgio, the newly minted CEO of Congreso de Latinos Unidos.
DiGiorgio, who emigrated to the US from Honduras, was shown in the audience on national television during the rally. Sources at Congreso, a nonprofit focused on strengthening Latino communities in Philadelphia, said her appearance sparked anger and confusion among the organization's employees.
Video and photos circulated among employees show DiGiorgio in a front-row seat at the rally, clapping and smiling as the president delivered his trademark jeremiads about "the wall," "fake news" and "the Democrats." Her spouse is PA GOP chair Val DiGiorgio, who was one of the speakers at the event.
Carolina DiGiorgio, who took the reins at the organization in January, said that she is "an open book with my Congreso family, board and staff" when it comes to her political affiliations and policy beliefs, but initially declined to answer specific questions about those topics with a reporter.
Congreso employees were reportedly incensed that she appeared alongside a president who has made his law-and-order stance on immigration a cornerstone of both his campaign and presidency.
"How could she be there when she is the CEO of an organization that is completely against almost everything that has come out of that man's mouth, especially about the wall?" one Congreso employee, who requested anonymity for fear of retribution, asked Philly Weekly.
Read more
May 23, 2017
Philly.com
Coalition of immigrant advocacy groups demands resignation of Congreso leader for applauding at Trump rally
Twenty immigrant and workers' advocacy organizations on Monday demanded the resignation of Carolina Cabrera DiGiorgio, president and CEO of Congreso de Latinos Unidos, citing her appearance at a rally for President Trump in Harrisburg last month.
Erika Almiron, executive director of Juntos, an immigrant human rights organization in South Philadelphia, said the "Letter of No Faith" in DiGiorgio was sent to Congreso's board of directors.
It called DiGiorgio's actions "a slap in the face to our communities, to those who support immigrants, religious minorities, and to those whose lives depend on access to health care."
Attempts to reach DiGiorgio for comment were unsuccessful Monday. Read more
More history of Mrs. DiGiorgio:
Feb.9, 2015
The Phoenix
Montgomery County hires new head of commerce department
NORRISTOWN >> The Montgomery County Salary Board has approved the hiring of a new director of the county's commerce department.
Carolina DiGiorgio, of Exton, took on the position effective Feb. 2 of this year for a salary of $105,000 per year.
DiGiorgio's husband, Valentino, is the head of the Chester County Republican Committee.
"That has no bearing on her qualifications," commissioners' Chairman Josh Shapiro said Thursday after the commissioners meeting. "She stands on her own two feet and is highly qualified for the position. We're looking forward to working with her." Read more
So restitution is now off the table for politicians who are convicted?
May 9th, 2017
PoliticsPA
Court Overturns DeWeese's Restitution Sentence
The ruling is the third such ruling by the appeals courts in Pennsylvania removed restitution order from the sentencing of a former House official.  Last month, the Court ruled that former House Speaker John Perzel would not have to pay $1 million in restitution.
The Court ruled that since Pennsylvania cannot be considered the victim, DeWeese cannot be ordered to pay restitution to the state.
DeWeese was convicted on conspiracy, theft and conflict of interest charges.  The ruling does not remove the convictions. Link
569total visits,1visits today