PA House Contact List
Link

Track State Rep  Campaign Finance
here
Email your State Rep:
Rep John Lawrence, 13th District – jlawrenc@pahousegop.com
Rep Tim Hennessey, 26th District – thenness@pahousegop.com
Rep Dan Williams, 74th District –  repwilliams@pahouse.net
Rep Danielle Friel Otten, 155th District – repotten@pahouse.net
Rep Carolyn Comitta, 156th District – ccomitta@pahouse.net
Rep Melissa Shusterman, 157th District – repshusterman@pahouse.net
Rep Christina Sappey, 158th District – repsappey@pahouse.net
Rep Stephen Barrar, 160th District – parep160@aol.com
Rep Kristine Howard, 167th District – rephoward@pahouse.net
Read about PA State Reps' perks here
April 12, 2019
DLN
Area reps vote to require insurers to cover treatment for Lyme disease
WEST CHESTER — House Bill 629, which would require insurers in Pennsylvania to cover treatment for Lyme disease, overwhelmingly passed the House on Tuesday and will be considered in the Senate this month, according to state Rep. Chris Sappey, among those who voted for the bill.
Under H.B. 629, insurers would be obligated to cover treatment for Lyme disease including short-term and long-term antibiotics. Treatment for other tick-borne illnesses and infections are also covered under this legislation.
Pennsylvania ranks No. 1 in the country for Lyme disease diagnoses. In 2016, there were 12,200 confirmed cases, which translated to roughly 40 percent of all Lyme disease diagnoses nationwide.
According to the CDC, the majority of these diagnoses come from Chester County. In 2016, Chester County had the most confirmed cases out of all Pennsylvania's 67 counties, with 371 diagnoses and a total of 10,682 confirmed cases since 2000.
"Since this disease runs rampantly throughout Pennsylvania, it makes sense to rely heavily on health insurance to help you pay for treatment because it can get costly," said Sappey, D-Chester. "Everyone should be eligible for medical treatment when they're sick, especially for Lyme disease because of its severity in our district."
Lyme disease is transmitted through the bite of an infected deer tick, which can cause a bacterial infection in humans and pets. Chester County is particularly vulnerable to Lyme disease because it covers both rural and suburban areas, which makes it an ideal habitat for deer ticks that carry the illness.
Common symptoms of Lyme disease are fever, skin rash, fatigue and headaches, but if left untreated, the infection can spread to the joints, heart and central nervous system, according to the Centers for Disease Control.   Source
All Chester County State Reps voted for this bill
April 10, 2019
lymedisease.org
Pennsylvania Lyme insurance bill passes House; on to Senate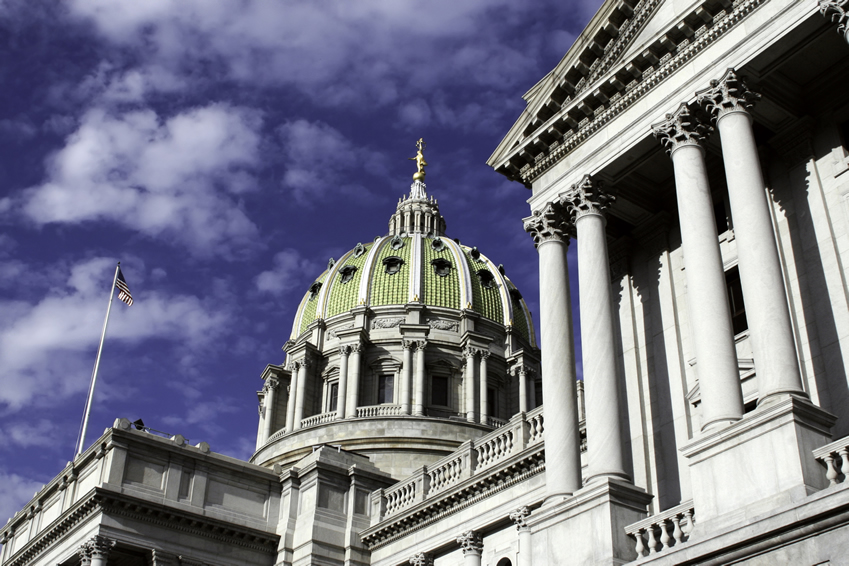 From the Pennsylvania Lyme Resource Network:
The Pennsylvania House of representatives passed HB 629 today by a vote of 158 to 34.
The bill provides for patient access to diagnostics and treatments for Lyme disease and related tick-borne illnesses.  It also requires health care policies to provide certain coverage including long-term antibiotics and anti-microbials.
The Senate Banking and Insurance Committee. will now be in position to vote on it.
The Banking and Insurance Committee Chair is Senator Mario Scavello. Senator Scavello is also a co-sponsor on the Senate's version of the bill, SB 100.
Upon passage of HB 629, the bill's sponsor, Rep. Kathy Rapp read a statement on the House floor.
She recognized two families who had been there waiting all day for the vote. They were the parents of Kevin Furey and Pete Smith. These two young men both died from Lyme disease.
Kevin battled the illness for more than 10 years before he succumbed. Pete passed away within weeks of his diagnosis. Both sets of parents say they want to help make sure that other families don't have to go through what they went through.   Source
March 26, 2019
wnep.com
PA State Rep.'s Opening Prayer Draws Controversy
LOCK HAVEN, Pa. — A state representative from Clinton County is finding herself in the center of controversy over a prayer she gave in the state House in Harrisburg.
Republican State Rep. Stephanie Borowicz offered that prayer to begin the session in which the first female Muslim member of the Pennsylvania State House was sworn into office.
"Jesus, we've lost sight of you. We've forgotten you, God, in our country, and we're asking you to forgive us, Jesus," Borowicz said as she offered the prayer at the opening of session day at the Pennsylvania House of Representatives on Monday.
The freshman lawmaker is facing backlash for the prayer as it comes on the same day the house swore in its first female Muslim member.
"That we're blessed because we stand by Israel, and we ask for the peace of Jerusalem as your word says, God," continued Borowicz.
Borowicz, who serves the 76th District that covers Clinton and Centre counties, is being criticized by some who see the prayer as an attack on Democratic State Rep. Motiva Johnson-Harrell.
In Lock Haven, Borowicz has an office on East Main Street. Jeff Schlesinger owns the radio station across the street.
"Supporting your own faith?" said Schlesinger. "I think you should. I mean, she didn't say anything negative. She's just telling what she believes."
Barry Edmonds believes the country has become too sensitive.
"I've never seen the country so divisive in my 85 years," said Edmonds. "It's a fact of life that we're going to have to get along together sooner or later."
Newswatch 16 contacted Borowicz's office for a statement on the opening prayer. We were told there was no comment.
The House did have a Muslim cleric pray during Johnson-Harrell's swearing in.
We spoke to some Lock Haven University students who say if religion is going to cause conflict between lawmakers, it should be left at the door.
"I'm personally Christian as well, but I feel like politicians should really keep church and state definitely separate," said sophomore Tiana Bowers.
In a statement, Rep. Johnson-Harrell said: "Islamophobia and xenophobia could not diminish the significance of this day for … all groups that have been marginalized. The need for my presence and the inclusion of 'others' has been made even more apparent." Source and video here
January 2, 2019
PennLive
Pa. State House makes a number of serious rules changes on opening day
This post was updated at 10:28 p.m. Tuesday with reaction from Gov. Tom Wolf's office to one of today's House rules changes.
On an otherwise ceremonial swearing-in day, the Pennsylvania State House passed a new set of operating rules Tuesday that carry new language on sexual harassment, criminal convictions and – in a late surprise – another tool to provide legislative oversight of the executive branch.
The changes passed 142-58 with significant bipartisan support, including 32 Democratic votes, after a little-noticed re-write effort headed up by incoming Majority Leader Bryan Cutler, R-Lancaster County.
Cutler said the work was warranted by some problems in the 2017-18 session the the old rules didn't effectively deal with, and his desire in taking the GOP floor leader post to re-examine some other longstanding proposals.
The top changes include:
Sexual Harassment.
Define sexual harassment in the rules for the first time, assigns the House Ethics Committee the ability to investigate such complaints when filed internally, and bars any member or officer of the House from any act of retaliation for a complaint filed in good faith.
Until now, sexual harassment claims have usually been handled by the respective party caucuses.
That assignment to Ethics sets out a number of guidelines, including:
The committee, if an allegation is proven, would then have the ability under its powers to recommend discipline, including the expulsion of a guilty member from the House in a publicly-considered vote.
It could also refer the complaint to law enforcement for potential criminal action.
Final findings by the committee would also be made public, Cutler's Chief of Staff Jake Smeltz said, with redactions of all victim-identifiers at the request of the complainant.
Similarly, a House member who was cleared of a sexual harassment allegation after an investigation will have the right to make that information public, though they would also be prohibited from identifying the complainant.
The changes follow a serious case of member-to-member sexual harassment allegation that emerged last February.
In that case, House leaders – after an internal investigation found the charges credible – called for the resignation of former Rep. Nick Miccarelli of Delaware County, but never attempted an expulsion vote.
Miccarelli finished his term as the case was referred to Dauphin County prosecutors, and ultimately dropped at the request of the only victim who charges were still within the statute of limitations.
Miccarelli did not seek re-election, however, and is not in the House in the new session.
Getting criminal convicts out of the House.
The new rules would require a vote on a resolution of expulsion for any member convicted of a crime that relates to their office or otherwise triggers Constitutional disqualifications on the next scheduled House session day.
This is a response to the case of former Rep. Vanessa Lowery Brown of Philadelphia, who was convicted of taking cash bribes and waited until well afte her sentencing to voluntarily resign her seat.
"The short answer on that," Cutler said, "is if you are found guilty we have expedited the process by which the House would consider taking action."
Governmental Oversight.
The new rules create a nine-member Government Oversight Committee in the House that Cutler said is designed to strengthen the House's oversight of the executive branch.
"It's really an effort by us by which we can follow up to check the effectiveness of laws," Cutler said. "We passed a law that said: 'A, B, and C', but the regulations do one, two and three…. How do you match that up?"
The committee – which will have subpoena power – will be tasked with holding hearings on any matter referred to it by the Speaker, majority leader or minority leader, on any executive branch matter that is not already being examined by the Appropriations Committee, or assigned by resolution to a separate task force.
In Gov. Tom Wolf's first term, there were several times that GOP lawmakers felt frustrated by what they considered a lack of cooperation fron the administration on providing information.
In one very public example, House State Government Committee Chairman Daryl Metcalfe, R-Butler County, slammed the administration for failing to provide information about the number of non-citizens who may have been inadvertantly registered to vote in Pennsylvania between 1995 and 2017 through the state's "motor-voter" system.
The new committee's work would result in final reports, adopted by a majority vote.
Where the House Ethics Committee look inward at House operations, Cutler said, he sees the new oversight panel as looking outward at state agencies and their performance as regulators and program administrators.
"That really has been a function of the legislature that I've always felt like we could do better," Cutler said.
But Wolf's office appeared caught off-guard by the move, and voiced some initial concern.
"We hope today's actions do not reflect a desire to abandon bipartisanship in the House," Wolf's press secretary J.J. Abbott said via email Tuesday night. "Governor Wolf has made bringing trust back to state government a top priority.
"Given the House majority's actions, he hopes they will next take up ethics reform, such as imposing a gift ban and requiring receipts for taxpayer-funded expenses, to follow the lead of the executive branch."   Source
Total Page Visits: 1512 - Today Page Visits: 3